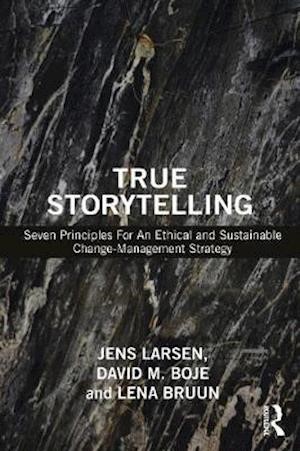 > True Storytelling
Seven Principles for an ethical and sustainable change-management strategy.
True Storytelling is a new method of studying, planning, facilitating, ensuring, implementing and evaluating ethical and sustainable changes in companies, organizations and societies. True Storytelling is both a method with seven principles and a mindset to help managers and researchers to work with change.True Storytelling stresses that we need to balance the resources of the Earth, our wellbeing and the economy when we are dealing with change.
It is not only a book about how to prevent climate change, it is also a book about how we can navigate through crisis, create less stress and achieve better life in organizations and in society as a whole. You will learn how to create innovative start-ups with a purpose and fund money for sustainable projects and good ideas.
The book combines practical cases, interviews with managers and CEOs, theory and philosophy to define the method and to teach the Seven True Storytelling Principles:
1 You yourself must be true and prepare the energy and effort for a sustainable future
2 True storytelling makes spaces that respect the stories already there
3 You must create stories with a clear plot, creating direction and helping people prioritize
4 You must have timing
5 You must be able to help stories on their way and be open to experiment
6 You must consider staging, including scenography and artefacts
7 You must reflect on the stories and how they create value
This book is a guide to implementing these core principles to boost leadership practices, create a storytelling culture and staff buy-in. The method is also useful as an analytical tool for organizations, managers and consultants in order to prepare, plan and execute the implementation of strategies. It is valuable reading for researchers and students at master level as well as leaders and consultants in charge of ethical and sustainable changes.
Authors: Jens Larsen, David M. Boje, Lena Bruun
Publisher: Routledge (2020)